We're announcing a major renaming and rebranding to reflect our company evolution into a global technology and payment logistics business.
From January 2020 Pay with Bolt will be known as Shuttle, Global Payment Logistics and have a new corporate identity that will be delivered across all platforms and channels.
The rebranding includes a top-to-bottom redesign of the company's platforms, website, logo, graphics, communications and correspondence. Shuttle's new brand assets are set to convey movement, trust and flexibility.
Why the name Shuttle?
Our customers have big visions and challenges when it comes to growing globally, this is at the heart of our change. We want to support those visions and journeys with a name and brand that can help take our customers where they need to go. Our new name represents those aspirations and also supports what we do far better. We move payments to the places our customers need them to be moved. The name Shuttle resonates well with our market and also creates differentiation from payment providers, we're not another payment provider adding to the problem of fragmentation, we're actually connecting the dots for our customers. They must feel confident when talking about the payments infrastructure and expertise they're relying upon.
The branding process went back to the fundamentals of the business and reworked the vision, mission and values, which drove the "global payments logistics" line and rename to Shuttle.
Our updated values are Considerate, Simplicity and Empowerment and these run through everything we've been working on and delivering in this process, as we hope you can see in our updated vision and mission.
Vision – The World of payments simplified.

Mission – Building the common language to communicate with payment processors.
And again delivering on that single-minded proposition to our customers of enabling global payment logistics for them. We've realised over the last two years that we offer more than logistics to our customers we offer them the ability to grow their customer base and onboard higher valuer customers. And for our customers' implementation teams we've enabled them to deliver more product, faster and leaner.
We're still solving the same macro challenge for our customers and now is the time to rename and clarify our offering…
Ecommerce software needs to process payments.
No one payment provider works for every business due to location, method or price.

Software vendors struggle to offer payment choice and are missing out on customers because of this.

We connect software to many payments providers to increase the addressable market and accelerate growth for software vendors.
What does the rebrand entail and look like?
The rebranding includes a top-to-bottom redesign of the company's platforms, website, logo, graphics, communications and correspondence. Shuttle's new brand assets are set to convey movement, trust and flexibility.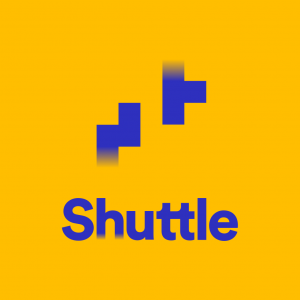 We needed a brand that set us apart in the market but also could be white labelled or minimal where required.
The symbol — represents movement, it's a nod to Tetris with the shapes, those shapes are meant to fit together which represents our desire to work collaboratively with our customers.
The wordmark — A robust font, Circular is used, with a custom 'h' that's taking off and represents movement.
The colour — There is a science behind colour choice; since the aim of branding is to create a connection and evoke a feeling with someone, we wanted to be sure that our new colours were right. Firstly, we wanted to stand out in our market, everything in SaaS is beginning to look the same in our opinion. We wanted to represent optimism, what keeps people/companies going on their journeys is optimism, the yellow does that for us. Blue is always used to represent trust and we've moved that towards a purple which has a more exciting feeling to it.
Product line
We also worked on a new brand hierarchy so that our product line-up was clearer both internally and externally. Our platform will be known as Shuttle, our enterprise product will be known as Bolt and our app store offering will be called Online Payments, built by Shuttle.
What next?
In early 2020 we will migrate to communicate solely as Shuttle, you will see the new brand application implemented on our external communications. Then over the course of the year, the platform will adopt the Shuttle brand.
What this means for our current and future partners is that they can depend on Shuttle to support their global expansion as well as drive depth into existing markets. Enabling them to work with a greater number of customers and those with complex, demanding needs. For current customers already using the platform, they don't need to do anything, they will see a rebranding of elements where the Pay with Bolt brand existed.
So we raise a glass to the future, our customers and partners' achievements. We ask you to dream big with us and climb aboard for this next chapter, it's going to be good.